Roy Banks
Chief Executive Officer and Director
Roy Banks has served as our Chief Executive Officer since December 2020 and as a member of our board of directors since August 2021. He has significant experience in the high-tech software development, e-commerce, internet marketing, and payment processing industries. Prior to joining our Company, he served as the Chief Executive Officer Partner of Tritium Partners from July 2019 to August 2020. Prior to that, he was the President of the LoadPay Business Unit from July 2018 to March 2019 and a board member for Truckstop from May 2017 to March 2019. He also served as the Chief Executive Officer of Network Merchants Inc. from May 2014 to May 2018. In addition to his role as Chief Executive Officer of our Company, Mr. Banks also currently serves as a Venture Partner for Pelion Venture Partners and as a director on the board of directors of Oportun Financial Corporation. Mr. Banks holds a B.S. Degree in business management from Utah Valley University.
Alan Taylor
Chief Financial Officer
Alan Taylor has served as our Chief Financial Officer since June 2016. Prior to joining our company, Mr. Taylor served as the Chief Financial Officer of eFileCabinet from January to June 2016, the Chief Financial Officer of Adaptive Computing from December 2011 to December 2015, and as the President and Chief Executive Officer of DirectPointe from May 2009 to March 2012. Mr. Taylor has also served in financial and/or business development roles at Boeing, Ford Motor Company, AlliedSignal and Novell. Mr. Taylor received a B.S. degree in Business Management with a concentration in Finance and an M.B.A with a focus in Finance from Brigham Young University.
Angie Balfour
Chief People Officer
Angie comes to Weave after more than a decade leading People teams at Facebook and Instagram, guiding these international brands through major acquisitions and growth inflection points. She has over a decade of experience growing global teams in multiple countries and serving as an HR business partner on all facets of organizational management, benefits, compensation planning and employee relations. Angie received her Bachelor's degree from Utah State University and MBA from the University of Utah.
Brett White
President and Chief Operating Officer
Brett White has served as a member of our board of directors since July 2020. Mr. White has served as the Chief Financial Officer for Mindbody, Inc. since July 2013 and previously served as its chief operating officer from 2016 to 2020. Mr. White also serves as a member of the Dean Advisory Council and has served as an Entrepreneur in Residence for the Orfalea College of Business, California Polytechnic State University since April 2018. Mr. White holds a B.A. degree in Business Economics with honors and an Accounting emphasis from the University of California, Santa Barbara.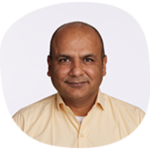 Ashish Chaudhary
Chief Technology Officer
Ashish Chaudhary has served as our Chief Technology Officer since August 2021. Prior to that, he served as our Senior Vice President of Engineering since October 2020. Prior to joining our company, Mr. Chaudhary served as Vice President of Product and Engineering at Twilio Inc. from April 2018 to March 2020. He also served as Vice President Product Management of Core Payment Data/Risk/Platform at Blackhawk Network from September 2016 to April 2018 after successive roles at Tata Consulting Services, American Express, Microsoft and PayPal. Mr. Chaudhary holds a Bachelors in Automobile Engineering and a Master of Technology Mechanical Machine Design from the Indian Institute of Technology, Madras.
Matt Hyde
Chief Revenue Officer
Matt Hyde has served as our Chief Revenue Officer since March 2021. Prior to joining our company, Mr. Hyde served as the Senior Vice President of Sales from January 2020 to March 2021 and the Vice President of Sales from July 2018 to January 2020 at Global Payments Integrated. Prior to that, Mr. Hyde served as the Vice President of Sales and Marketing at Network Merchants from August 2014 to July 2018.
Chris Baird
Chief Marketing Officer
Chris Baird is Chief Marketing Officer at Weave. Chris is a data-driven and growth-minded marketer with a proven track record and nearly two decades of experience in high-growth B2B SaaS companies.
Before joining Weave, Chris was the Chief Marketing Officer for ObservePoint where he helped build a category leading brand. Prior to that, Chris worked at Omniture and Adobe where he owned both the demand marketing and web strategy initiatives.
Chris studied at BYU's Marriott School of Business with an emphasis in marketing and international business.
Branden Neish
Chief Product Officer
Branden Neish is the Chief Product Officer at Weave.
As a growth-minded product leader, Branden has added significant value to businesses through product design, development, and transformation. Before joining Weave, Branden served in multiple leadership positions including CEO of Gear.com, CEO of Agemni, and VP of Product and Integrations at Progressive Leasing. In each of these roles, Branden focused on financial growth and building beautiful and innovative products.
Branden graduated summa cum laude from the School of Technology at Brigham Young University and graduated magna cum laude from Harvard Business School.
Erin Goodsell
Chief Legal Officer
Erin Goodsell is Chief Legal Officer of Weave. Erin comes to Weave with a deep background advising high-growth technology companies such as Facebook, Nintendo, and Sony.
Before joining Weave, Erin served as in-house Director & Associate General Counsel at Qualtrics. She has shepherded two IPOs and is a repeat "Rising Star" SuperLawyer award winner. Erin spent over eight years at international tech law firm Cooley LLP, where she represented a variety of major corporations from small biotech companies to pharmaceutical, software and retail companies in commercial litigation, intellectual property litigation, privacy litigation, and class action and securities litigation.
Erin received her Bachelor's degree in History from Georgetown University and her J.D. at Brigham Young University.